Many of the better rivers for canoeing in North America are fairly high profile, or have at least been thoroughly documented. The continent is blessed with many stunning national parks, and in these and other pockets of beautiful wilderness, river canoeing can be a life-changing experience. But there are also some smaller and lesser-known rivers, particularly in the southern United States, that deserve some attention as well. One example is the Buffalo River.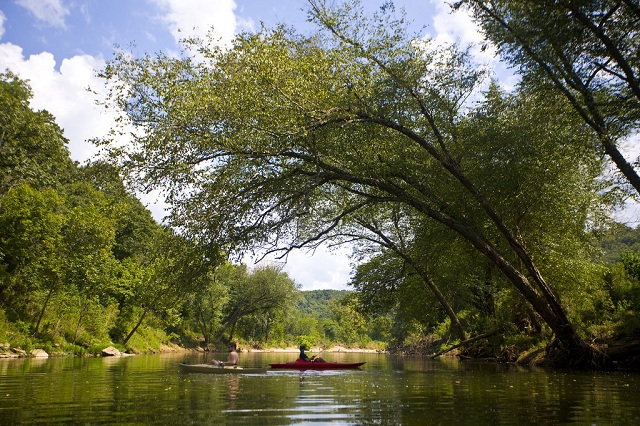 The Buffalo River is in Arkansas, stretching more or less horizontally across the northern portion of the state. It runs from the Boston Mountains in the Ozarks to the point at which it joins with the White River (which eventually joins up with the Mississippi), and it's sometimes referred to as the Buffalo National River. Most of the river's 153-mile expanse is under the guidance of the National Park Service.
Canoeing the river can be a different experience for different people. Art Of Manliness actually did a fairly thorough write-up of the river (as one of "four amazing wilderness canoe trips to take") and mentioned that there are whitewater rapids over Class II on the river, which basically means you need to know what you're doing and have the proper equipment. However, this is only necessary for the upper portion of the river where it comes down from the mountains. The majority of the river is calmer and free of challenging rapids – though in times of flooding, it can be somewhat more treacherous.
As for sights, it's a very pretty area. Arkansas may not come up frequently when we talk about America's national parks or even its great rivers specifically. But between the Ozarks, the dense layers of trees on the banks, numerous caves that can be viewed from the water, and an impressive array of flora and fauna, this is a very scenic canoeing route. The biggest surprise may be catching sight of an elk from the river, but herds were introduced to the area back in the '80s.
You needn't worry about camping options either. The National Park Service has a list of Buffalo River camping grounds that may be of service if indeed you end up planning a trip. But this is a popular route in national park territory, and that means you're never too far from a campground. You'll of course need to plan your route and your stops carefully – and you may spend as many as six or seven days on the river – but you'll have your options.
The other interesting thing about this particular canoe trip is that when it comes to an end, you can enjoy some southern hospitality while you rest your weary arms. The easiest way might be to find a town with a cozy motel and a southern casino. This part of the country may not be known for its casinos, and for that matter, with web platforms taking an immense amount of precaution to offer safe and secure gaming options, casinos are going out of style in a lot of places. But the recent film Mississippi Grind demonstrated a buddy road trip down the Mississippi by a few lucky card players, and it wasn't built on a fantasy. There are fun little casinos dotted around the area that can make for nice relaxing stops after a long trip on the river.
Alternatively, you'll also finish up fairly close to Memphis, Tennessee. That's not to say you'll be right in the city's backyard, and for that matter there are plenty of different places on the Buffalo River where you could bring your canoeing journey to a close. But Memphis will only be a short drive away, and this would make for an excellent excuse to visit. It's truly a unique city, combining elements of other major urban areas with some unusual, southern culture. It's known for a lively historic district, an excellent live music scene, and plenty of delicious barbecue – not a bad place to relax your muscles after a long canoe ride.
Add it all up and this is a lovely vacation. The Buffalo River is a simple but picturesque ride in an unexpectedly nice pocket of the United States. And some of the surrounding areas only add charm to the trip.